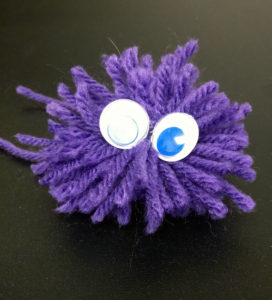 The Roll Hill School Based Health Center has started a new student driven club called the "Care Crew."  The mission of the club is to find ways to help promote healthy bodies and healthy minds within the Roll Hill community.  During the group's first meeting the students made cute furry friends called Schmuzzies that they could share with friends and family.  The Schmuzzies were supposed to be a simple and fun way that students could "spread some warm fuzzies" around school to let students and staff know that someone was thinking of them.  Their instructions were to share a Schmuzzie with someone who was sick, a friend who was worried about a test or anyone they thought might just be having a bad day and needing some cheering up etc.
After the meeting Schmuzzies were shared with various staff and guests to the school.  The students were proud to share and show off their handi work.  The Schmuzzies were well received with many thanks and exclamations of "oh how cute!"  They are definitely a day brightener for a cold, grey,  January afternoon.  One of the students noticed a teacher who had been crying.  The student approached the teacher to offer her his Schmuzzie because, as he explained, she looked sad and he wanted to help her feel better.  The student was so excited at how nice it made him feel to help someone else feel better he returned to the health center after school to share his story of success and make some more Schmuzzies to share.
Fast-forward to Monday.  The school's principal stopped into the health center to talk about "those things you made."  The teacher who had been crying was upset because she had been thinking of her son who had died suddenly near this time the previous year.  She was so touched to receive her Schmuzzie, and to know that someone cared for her, according to the principal she carried "that thing" around with her for the rest of the afternoon, hours after school had dismissed.
Since that first meeting there have been requests from the students involved to make more Schmuzzies as well as suggestions for what the group can do next.  It's been exciting to interact with the students in such a positive way that is already being noticed and appreciated.  We're looking forward to future projects.
— Allison Rudy, Pediatric Nurse Practitioner